On Saturday 12th November I led a fungi walk for London Wildlife Trust at Dulwich Wood in south-east London. I only managed one photo on the day because I was working and leading the group around, but it was a pretty good one nonetheless.
When doing a pre-walk check I accidentally flushed a woodcock from the vegetation off the main paths. I never like to do something like that but they are so difficult to see, camouflaged down there in the leaf litter. It's good to know they are still able to use to woods as a stop off on passage. It also suggests they are using woods nearby which have no public access, because this is one that has hundreds of thousands of annual visitors, so ones free of 'disturbance' must be even better.
This isn't new in Dulwich. Local ornithologist Dave Clark once told me a story of a woodcock smashing through someone's window and landing in their bedroom. Because woodcock migrate, often by night, they sometimes get it wrong. Their long bills and speed of flight also mean they will crack glass quite easily. The bird in question was scooped up and taken to a vet, from what I remember it survived and lived to fly another day.
There's a really nice episode of the Golden Grenades podcast featuring woodcock that you can listen to here. It features Kerrie Gardner, a superstar writer, photographer and sculptor who is a friend of this blog!
On the fungi front, the mushrooms were very few and far between considering the time of year. There was a shaggy theme to what was there, in that two of the sightings were shaggy parasol and shaggy bracket. The most common species group were the bonnets (Mycena), along with small polypores like turkey tail and hairy curtain crust, which are all on decaying wood.
My sense is that the extreme heat and drought this summer, where temperatures reached 40C, has had a worse impact in smaller woodlands in places like London. More rural, larger woodlands are able to hold water and moisture more effectively, therefore being able to feed fungal communities far more easily. Those woodlands also have running water in the form of brooks, streams and woodlands that aid soil moisture. London's woods look far drier in November than those in West Sussex, even after torrential rain.
It's also very mild, around 15-18 degrees on the 12th November, which shows just how far-reaching climate change already is. The milder weather may mean mushrooms fruit for longer though, with the colder temperatures held off until maybe January or February. It's just so hard to predict these days.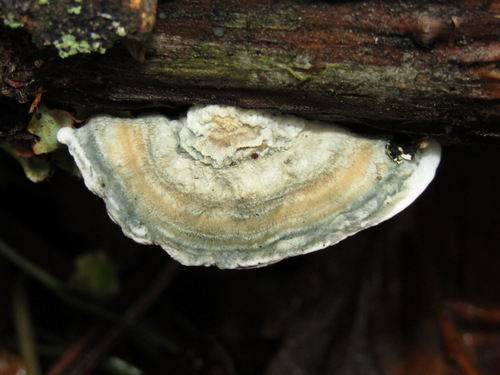 One interesting thing that a couple of people on the walk discovered was a species that was new to me. On a scaffold board used for steps, a small blue polypore (example photo above) was peeking out. Having seen it elsewhere on social media in the last week, I can confirm it was blueing bracket. I'm back there soon so will aim to get some *actual* pictures next time.
Thanks for reading.