Plus other things seen on 7th October 2022
From over a decade of speaking to (often random) people about nature, wildlife, landscape, etc., I've noticed that one of the things that really surprises or troubles people is when things grow on/in other things.
On this list I would include trees, insects and fungi.
The understanding that insects grew inside other insects was enough for Charles Darwin to doubt his own faith. The idea that cuckoo hatchlings are hard-wired to chuck out the eggs of the dunnocks, wrens, pipits or warblers it shares a nest with, is also deeply disturbing to people.
Imagine how you're going to feel about mushrooms that grow from other mushrooms. Prepare yourself.
At least twice now I've found a white fungus growing from black mushrooms in the woodlands of the Sussex Weald. The first time was a few years ago on a National Trust property, on what turned out to be powdery piggyback fungus (Asterophora lycoperdoides) growing on the caps of blackening brittlegill (Russula nigricans).
The image above was taken on what may well be that species, but I've not done any work on identifying either of them. From the images I would guess it was more likely to be silky piggyback (Asterophora parasitica) which has a nice write-up here.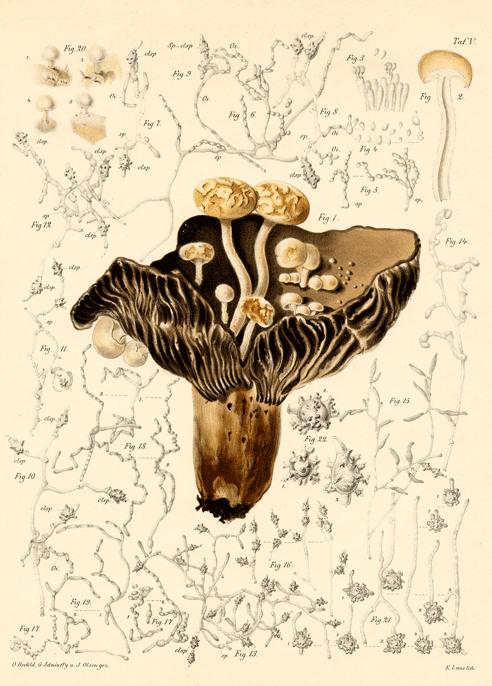 Piggyback fungi are parasitic due to the fact that they 'invade' the tissue of mushroom fruiting bodies. It should be obvious, due to the prevalence of fungi in our world, that fungi grows on just about everything. But it's rarely illustrated in such an elfin manner. Mould on a mushroom doesn't have the same allure as 'little mushroom guys'.
Elsewhere on this walk I spotted two common species gracing us with their presence for the first time this season. One of those was another parasitic species, but this one is much more well known and seemingly reviled in some quarters.
This is one of the honey fungi (Armillaria) which only this weekend (15th October '22) was described as 'the most destructive fungal disease in the UK' by the Royal Horticultural Society. That, to my understanding, is not true. The only way to deal with that is in another blog post so we can crown the actual most destructive fungal disease in the UK. If you can't wait for that, one of the most viewed blogs on this website is this one about honey fungus which I wrote previously.
Don't worry though, this website is not a greatest hits archives just yet!
The Most Destructive Fungal Disease in the UK is quite beautiful when it appears in its natural habitat of ancient oak woodland.
Another fungus that decided to show its face is the common puffball (Lycoperdon perlatum). This is an edible species that I usually find alongside footpaths but is also often presented deeper into woodlands (sounds like a Yo La Tengo song). It always reminds me of the submarine rolls my parents would buy me from M&S as a kid during Saturday trips to the shopping centre.
Russulas have already made an appearance in this post with the shrooms they're giving a piggyback to. I would say it's been a strong year for this group of difficult to identify fungi, but they are often out in good numbers. This is a family that can be found with a clean, white stipe and white, brittle gills.
To finish, I went to check in on the stairway to mushroom heaven that I posted about last week. It was quite amazing to see that these edible stepping stones remained. Evidently the foragers in this particular woodland are few and far between, be they human or squirrel.
Thanks for reading.
Further reading: Fungi | The Sussex Weald
Enjoyed what you saw here? If so, please support my work: https://ko-fi.com/djgwild
On Sunday 28th May I forced myself, though tired, to go for a walk in the Arun valley in the South Downs. The aim was to try and distract myself from Everton's final day game against Bournemouth, where my team could be relegated from the top division of English football for the first time in…
It was a misty morning high on Dartmoor. We began walking from Bennett's Cross, passing Birch Tor and heading through wintry heather moorland.
Another week of some sun, some showers, and some temperatures that got close to freezing. That sentence may turn out to be a spring epistrophe, but more of that later. In Scotland it reached as low as -5C. April 2023 has been a mishmash of seasons. Here's what I encountered in my garden on 22nd…